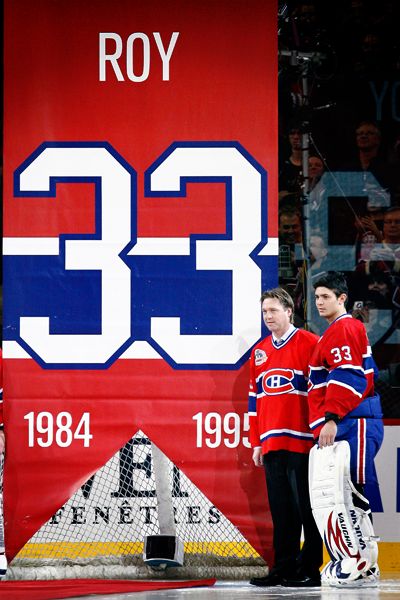 Patrick Roy finally returned back home on Saturday as his famous #33 was retired by the Montreal Canadiens after more than a decade of a bitter separation between Roy and the organization.
Roy arrived through the Bell Centre corridors and walked his way through the crowd before reaching the ice.
"Tonight, I am coming home," Roy said to the noisy, sold-out crowd at the Bell Centre, when his number was raised to the rafters before Montreal played Boston.
Roy won the Conn Smythe Trophy as the playoff MVP twice with the Canadiens, in 1986 and 1993 when Montreal captured the Stanley Cup. In 1986, Roy was a 20-year-old rookie and, seven years later, in 1993, Roy won a record 10 games in overtime, a record that is unlikely to be broke.
Roy's parents (Michel Roy and Barbara Miller), brother and sister, and his three children (Frederic and Jonathan play for his Quebec Remparts) were on hand for the ceremony, along with his first three Canadiens coaches, Jean Perron, Pat Burns and Jacques Demers.
Drafted by Montreal in 1984, Roy made a brief appearance during the 1984-85 season before making the team for good the following season. A Nordiques fan growing up in the Quebec City area, Roy was nonetheless proud to start his career with the Canadiens.
Francois Allaire, his longtime goalie coach, was praised for helping him perfect his butterfly style that spawned a generation of Quebec-developed goalies.
Patrick Roy retired after the 2002-2003 season at the age of 37 year-old.
Roy, inducted into the Hockey Hall of Fame in 2006, previously had his No. 33 retired by Colorado. He is the sixth NHL player to receive such an honor from two teams.
He won a Calder Memorial Cup with the Quebec Remparts in 2006.
Source: Associated Press